What's new at Gleet and Gumma
---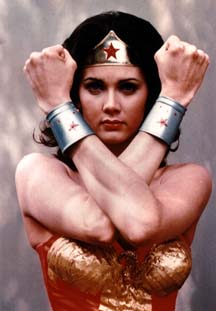 In her satin tights, fighting for her rights
---
October 21, 1999:
Uh oh...Gleet and Gumma mail order will be defunct until late December, and we are awfully sorry. So, don't send any checks until then. But, we'll make it up to you...with filth! The new issue #5 of Krebnar Imparts His Gems of Wisdom is ready for you to download! It's here in Adobe Acrobat (.PDF) format; version 4 is recommended. If you don't have Acrobat Reader, it's free from Adobe. The new issue is super-raunchy and hopefully will provide chuckles galore.
Love, Execution Style tour dates!
October 26, 1999: De Skolgård - Hässleholm, Sweden
October 27, 1999: Badrumskylskåp - Lund, Sweden
October 30, 1999: Økonomi - Næstved, Denmark
November 2, 1999: Seværdigheder - Rødbyhavn, Denmark
November 8, 1999: Haar-Käsescream - Wilhelmshaven, Germany
November 12, 1999: Vochtig Koekje - Groningen, Netherlands
November 18, 1999: Der Unordentlichen Frau - Aachen, Germany
November 25, 1999: Feuchtes Sandwich - Bad Hersfeld, Germany
December 5, 1999: Das Grosse Baby - Garmisch-Partenkirchen, Germany

---
October 4, 1999:
Love, Execution Style are going to tour Europe this Fall/Winter! Unfortunately, the custom-made music service must be temporarily discontinued because of this. Wah. Anyhoo, we'll post tour dates when we get 'em!
Craziness! The super-cool synth pop band The Mnemonic Devices covered the song "Pearl Necklace" by Love, Execution Style, and it's on their latest CD All This Wasted Beauty. It's a gem of an album, so give 'em a try.

---
August 5, 1999:
SUPER-YAY! Chalk another one up for Love, Execution Style, whose Nameless album was reviewed in a recent issue of Metro Pulse. Check it out! Despite what the review says, the band does not partake in illicit drug use. They are high on freakin' LIFE!

---
July 10, 1999:
AIIIIEEEE!!! Head on over to your local newsstand and pick up the August issue of Spin magazine (the one with Limp Bizkit on the cover) and check out the article that talks about Love, Execution Style! So you'll waste no time, it's on page 163. It describes their custom-made music service, the latest album Nameless, and is pretty darn flattering and cool. Needless to say, all of us at G&G Records are jumping up and down, screaming non-stop, and showering each other with various pasta salads. HOO YEAH!

---
May 12, 1999:
Grab a lovely beverage, settle into your easy chair, then start surfing the hell out of Fevered Penguin's newly updated web site. It is fab-funTASTIC! Where to begin? You have some groovy-new mp3 sound files, zany comics, and exclusive photos of this pulsating teen sensation that is Fevered Penguin. Punji, Punji, what have you done now?
Scott Jackson, a.k.a. Ericgeneric (Gosh Guy from long ago), has commenced his worldwide media takeover with the launch of his hit TV show The Cartel, which can be viewed in the Nashville/Murfreesboro/Cookeville (Tennessee) area on Public TV station WCTE-10. Scott plays Monty Carlo, a French national who is scheming to dominate the automobile market with his partner, Katrina Svetlana, former Russian assassin. Exciting? Oh my yes. And, since this crazy world of ours is intraconnected in oh so many ways, much like a spider's entangling web of silk, we should point out that Love, Execution Style composed the opening and closing theme songs for the show.

---
April 11, 1999:
Gentle readers, please peruse the Drawer B review of Nameless by Love, Execution Style located here and decide for yourself whether or not you need to possess the CD, like an evil temptress must possess the souls of feeble men.

---
March 5, 1999: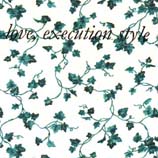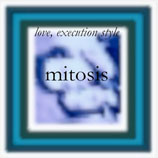 The new Love, Execution Style album was born from an experiment: could they write and record a new song every day for the month of January? On New Year's Day, the members swore off any social contact for the entire month - even between each other. Every day, each member took an assigned shift to work on a song, then they had to leave the premises before the next member would arrive at the studio to continue work. Were they successful? Well, by the end of January, there were nineteen new songs, hundreds of empty bottles, and several tired, broken souls...so no. They failed. February was spent recuperating and completing more recordings, bringing the total to twenty-four tracks.
On February 28, they stumbled into our office with a handful of master tapes, said nothing, and left. Twenty of those tracks comprise Nameless, their fifth and best album yet. This puppy is filled to the brim with pop songs of every shape and form, from ultra-twee tunes to kill-me-now-depressing tracks. It's accented with compelling mood noise, dense arrangements, and a wide variety of instrumentation. Plus, you get six super-cool bonus tracks, including their three commissioned custom-made songs. And we haven't even mentioned the packaging yet! Every cover is hand-cut from fabric and as you can see is pretty darn gorgeous. Be sure to listen to selections from Nameless on our mp3 sound file page, and hear for yourself.
You may be thinking "Hey, I thought they recorded twenty-four tracks!" The leftover four tracks didn't seem to fit with the rest of the album, so we're making them available as an online mp3 EP called Mitosis which is available until June. You win!

---
January 9, 1999: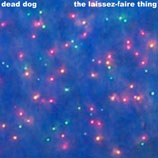 Now that the holiday excitement has passed and you are undoubtedly lying in a pile of rubbish, with turkey-scented breath, here's something to pick you up and fling you into the neighbor's yard. A new Dead Dog EP, and it's online in MP3 format! It's a mega-single for "The Laissez-Faire Thing," a track from the upcoming Dead Dog album. It's totally rad! It has a live version of "Hemispherin'," a cover of Stephin Merritt's yet-to-be-released "Lindy Lou," and other toasty treats.






---
Read old news from 1998
Read old news from 1997
Read old news from 1996
Read old news from 1995
Return to Main Page